"
Enter Conch Ruins and bring back the Lighthouse page!
"
–In-Game Task Prompt
Conch Ruins is the fourth level in the Beach Gate.
Like most other levels, Shadow Goo is splattered around Conch Ruins. The Hero can clear the Shadow Goo for an end-level bonus.
CreationsEdit
Rescued Raposa Quotes Edit
"
"Yar! Ya saved me, I owe ya one.... Let's set sail for the closest port and plunder some Rapo coins!"
"
"
"Yarrrgh! Yar be freeing me!"
"
Template PageEdit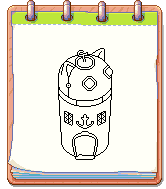 The page for the Lighthouse is found here.
This is the only underwater level to use the "Kori Jungle" backdrop.
---
Community content is available under
CC-BY-SA
unless otherwise noted.