Welcome to the Drawn to Life Wiki!
Mecha Baki
Mecha Baki are a type of Baki found in some Forest Gate levels. They have keys similar to those of wind-up toys on their heads. They walk slightly faster than other types of Baki.
Mecha Baki resemble Timber Baki, sharing their color palette; with both sporting blue fur and a yellow/blue scarf. Instead of wearing a green leaf, however, they have a spinning wind-up key protruding from their head. The feet of the Mecha Baki also deviate from those of a normal Timber Baki, being skinnier and more mechanical. The body of a Mecha Baki is also covered in metallic plates.
Seeing as the Mecha Baki are mechanical and toy-like in nature, it may be assumed that they were made by someone or something. There is no explanation for where Mecha Baki come from, or whether they're alive or not, so the entire thing is a mystery. Their 'hurt' sprite may suggest that they are indeed alive, however.
What would you like on your wishlist?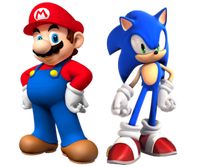 ---
This Wiki was designed for use on the desktop and may not function properly using a mobile device. Please consider switching to the full site by clicking here.
---
Community content is available under
CC-BY-SA
unless otherwise noted.