"
Enter the Forest World Gate and secure the Village Observatory page!
"
–In-Game Task Prompt
Star Forest is the fourth level in the Forest Gate in Drawn to Life.
Like most other levels, Shadow Goo is splattered around Star Forest. The Hero can clear the Shadow Goo for an end-level bonus.
The Village Observatory Template is retrieved from here, along with Galileo and his family.
After the Village Festival, The Mayor remembers that the Village used to have an observatory, and sends The Hero into this level to retrieve the Template page for it.
The Hero also rescues Galileo and his family from the level.
CreationsEdit
This list only includes creations that are first drawn, or can be redrawn, within this level.
Rescued Raposa QuotesEdit
"
Thank you! Your timing could not have been better! I came to study the stars... but I'm ready to return to the village!
"
"
My husband Galileo is the smarest Rapo around!
"
"
My dad is the smartest Rapo in the world!
"
Template PageEdit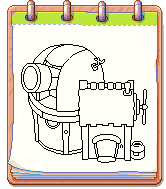 The page for the village Observatory is found here.
---
Music themes used within this level.
Forest 1
---
Community content is available under
CC-BY-SA
unless otherwise noted.