Formally working for Wilfre, Joy decided to turn against him and be on our team, knowing she would be killed if Wilfre found out. Not only was she turning against Wilfre, but her brother's and sisters, but that didn't stop her from doing what was right.
Joy was a kind, brave, and heroic shadowbat. She, Heather, Happy Baki, and I were very close friends.
Joy knew destorying the Shadow Power Source would kill her, but she allowed it willingly, even destroying the Power Source herself.
She died in my arms with a smile on her face, knowing what she did was right.
Bless you Joy, may the Creator reward you for putting others before yourself.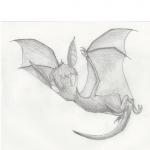 Community content is available under
CC-BY-SA
unless otherwise noted.