Xylophone



Information
Name
Xylophone
Use
Acts as a slow falling platform
Creation Type
Level Object
Has Preset
Yes
Template Needed
No
Created In/After
Symphonic Falls
Crater Pass
Game(s)
"
These platforms flow over waterfalls and into the water below. Hero can use them as a stepping stone to explore new areas.
"
–Design Prompt

The Xylophone is a platform that floats down waterfalls. It can be drawn in the first segment of Symphonic Falls. It can also be drawn in Crater Pass.
Once drawn, this creation will slowly fall down waterfalls within the levels and will fade away once it reaches the bottom.
Appearance
Due to the Xylophone being a creation object, the appearance is overall dependent on the player.
The pre-drawn guide creates a simple green xylophone key with golden screws.
Levels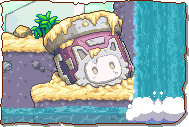 Symphonic Falls
Trivia
The Xylophones is one of the few creations to make a noise when used.
The Xylophone is the only creation that can be created in more than one village.
Media
---
Ding
---
Community content is available under
CC-BY-SA
unless otherwise noted.